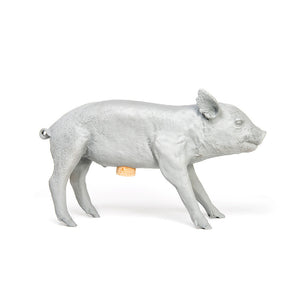 This iconic piggy bank is one of Areaware's staple.
It was casted in remembrance of a piglet that passed from natural causes, and as a way to remember and celebrate it's life they created this piggy. With promotion of cruelty free practices and life styles, the piggy bank is just as meaningful as it is artistic. With this wholesome backstory, this piggy can hold up to $10,000 in dollar bills!
Details:
Made from resin and marble. 18" L x 10" H x 5.25" W

About Areaware:
A brand based from Brooklyn, Ny and Columbus, OH. Areaware consists of a small team of 24 that are dedicated to working with small independent designers. Areaware is known for helping these designers bring their unique ideas and creations come to life, all the way from their infamous Reality Bank in the Form of a Pig, to something as simple as their Minim Cards.