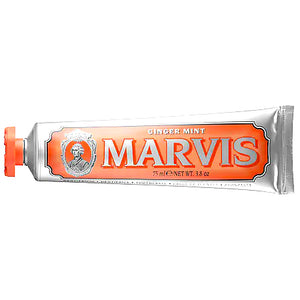 Get those teeth super-duper clear with this traditional mint blend with a pop of jasmine from Marvis, purveyors of superb dental hygiene products. Will leave your mouth snappy, fresh, clean + lovable!
About Marvis:
Marvis offers toothpaste that is beyond the norm. Attractive, unique, contemporary- Marvis has revolutionized the concept of toothpaste giving it a multi-faceted, modern interpretation and extraordinary appeal, all while being fluoride-free.
Founded in Florence, Italy in the 1970s, Marvis stands out on account of its trendy image with an increasingly up-to-date, original and ironic flavor, inspired by the art and fashion worlds, capable of capturing and involving a spellbound public, who is curious and open-minded.
All the way to a Classic Mint flavor, to a Ginger Mint, to Amarelli Licorice, and so much more; make your everyday routine something a bit more.... not so everyday.