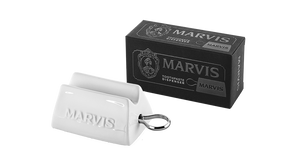 Squeeze that last dollop of that sweet Marvis toothpaste with this stylish toothpaste dispenser. Easy to use and clean, get the most out of any toothpaste without the struggle.
About Marvis:
Marvis offers toothpaste that is beyond the norm. Attractive, unique, contemporary- Marvis has revolutionized the concept of toothpaste giving it a multi-faceted, modern interpretation and extraordinary appeal, all while being fluoride-free.
Founded in Florence, Italy in the 1970s, Marvis stands out on account of its trendy image with an increasingly up-to-date, original and ironic flavor, inspired by the art and fashion worlds, capable of capturing and involving a spellbound public, who is curious and open-minded.
All the way to a Classic Mint flavor, to a Ginger Mint, to Amarelli Licorice, and so much more; make your everyday routine something a bit more.... not so everyday.