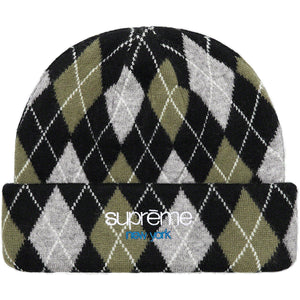 This cashmere blend cuffed beanie from Supreme features an embroidered logo on cuff + traditional stately argyle pattern. Will definitely keep your noggin warm as the hells in the colder climes.
About Supreme: 

Started in 1994, in downtown Manhattan, Supreme started directing to an audience of neighborhood kids, New York skaters, local artists, who eventually became part of the Supreme culture.

Supreme grew with the culture of hip-hop, skaters, and punks, who all gravitated to Supreme and made it thrive. Today, Supreme has grown globally, with artists, photographers, designers, musicians, and many more who have helped Supreme thrive and contribute to it's showcased attitude within the art of the clothing that has got it to where it is to this day.